OUR SOLUTIONS
The only real certainty is our uncertainty of the future
That's why our constant goal is to help you become the leader of tomorrow your business needs today.

Whether you run a business, manage a team, or are just embarking on your career, you have a wealth of untapped leadership and business growth potential at your fingertips.

Leaders that can motivate themselves and others are more resilient, more dynamic, and more successful than those that can't.

Our programmes challenge your limits through our Motivational Intelligence formula, broadening perspectives for better performance and bigger outcomes.
Discover which programme best suits your needs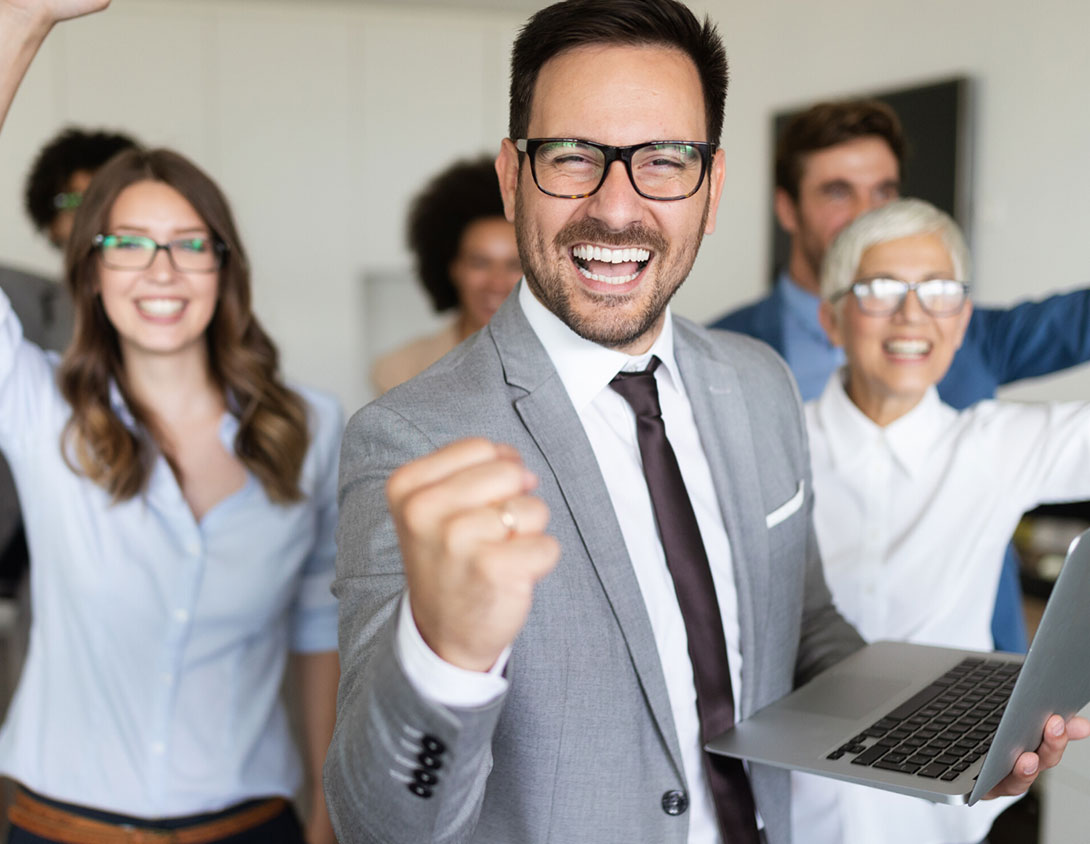 MOTIVATIONAL INTELLIGENCE
Leading With Motivational Intelligence
Your mind is the most powerful tool on the planet
Discover the difference between better and best

Our new Scottish Qualification Authority (SQA) approved Motivational Intelligence Executive Diploma helps you get under the skin of the essential practices that take leaders from better to best.

Focusing on imparting fundamental skills, tactical best practices, and powerful insights on the business's human side, the course provides valuable knowledge to leaders of all levels. Particular emphasis is given to addressing the challenges the new business world is facing; leading teams and developing business in turbulent times.

Every module is a natural evolution of the one before it, guiding YOU and YOUR Team to Think BIGGER. Be BETTER. and Achieving MORE every day.

Throughout the course, particular emphasis is given to helping leaders raise motivational intelligence levels and foster a team's growth mindset. An increasing body of evidence shows a direct correlation between motivational intelligence and human performance, particularly in a time of rapid change.

Fully assessed, with practical activities and real insight, you will be equipped to lead well in your world – whatever that world looks like.

Leading With Motivational Intelligence will challenge your managerial and leadership mindset through our award-winning Motivational Intelligence formula, broadening perspectives for better performance and bigger outcomes.
Business Growth Academy - Because construction businesses need building, too.
Are you ready to take your construction business to the next level?

We have the programme for you.

Designed specifically for the development of owner-managers, the Business Growth Programme helps you create the future you want for your business and for yourself.

Tailored specifically to the needs of business owners in the construction industry, our accelerator courses are designed to equip you with the tools you need to create real success on your terms.

We cover the practical skills you need to grow your business and the more personal skills that make you a deliberate, purposeful, and effective leader.

From growth strategy to self-awareness, our Motivational Intelligence formula taps into your potential, helping you to achieve more than you ever believed possible.
SDS Individual Training Accounts - Because great leadership belongs to everyone.
Whether you're in an entry-level role, or you run a business that needs a boost, at The Power Within, we know that everyone has leadership and sales potential.

Our programmes give you everything you need to create an environment where you and your business can thrive.

Self-leadership and sales skills are some of the greatest skills you can learn, helping you to create positive change, now and in the future.

If you are looking to develop your abilities, and meet the following criteria, then we are here to spark your personal and professional development, with the tried and tested power of our Motivational Intelligence formula:
Aged 16 or over
Not in education or involved in any other SDS funded programme
Unemployed and looking to get back into work
Employed, earning less than £22,000 per year and looking to progress in or change your job
Business Owner, earning less than £22,000 per yea
Resident in Scotland
And even if you don't meet those criteria, you can still invest in and take these courses yourself! Click the link below to find out more.
Business & Team Coaching - Because your best asset is your people, and you know it
Let's talk about large scale sustainable change.

No, it isn't a pipe dream. And yes, with the future we're facing, it is absolutely necessary.

We need real leaders in business more than ever before. This is why we take a holistic, proactive approach to help your company create self-reliant, resilient, capable leaders at every level of the business.

Our expertise lies in helping you and your people transform their organisation from the inside out.

Together, we can galvanise your company culture, seize opportunities, and overcome challenges by empowering you and your team with the personal and professional skills they need: ensuring immediate and future success.
"Management is doing things right; leadership is doing the right things." – Peter Drucker
OUR SOLUTIONS
Here at The Power Within, we know that the mind is primary
We are capable, once we harness the power of our minds, of almost anything we choose.

That's why Motivational Intelligence sits at the core of our business – helping move you, your team, or your company out of a place of reaction, and into the driver's seat where you belong.

Once we broaden our perspectives and deepen our self-knowledge, we can start making our beliefs and values work for us, our colleagues, and our communities.

So what can you expect from The Power Within, as we work together to put you on the path to success?

Glad you asked!

We're curious and interested, we're courageous and confident, we're determined and dynamic – and perhaps most importantly, we're generous and trustworthy.

We believe in delivering incredible value, being considerate of others, and having fun.

We bring the best of ourselves to everything we do – living examples of what it's like to think BIGGER, be BETTER, and achieve MORE.